#1 Web Designing

& Development Company in Mumbai, India
We Build High Quality, Responsive & SEO Friendly Websites & Apps
We are a responsive web design company and also offer eCommerce Development Services & WordPress Services in Mumbai India. CREATING EXCLUSIVE WEB DESIGN SOLUTIONS SINCE 2011 ! We are reasonable and customer-centric. We are one of the Best Web Design & Development Company in Mumbai, India, we can also help you rank on Google search with our SEO Services and with our Explainer Video Services.
We are one of the Best Web Design & Development Company in Mumbai, India. A responsive web design company and also offer eCommerce Development Services & WordPress Services.
We are ecommerce website development company in Mumbai, also providing you SEO services you need, to run a successful eCommerce website.
We Create Beautiful user friendly Mobile applications for Smartphones, android , IOS and windows. We are one of the best mobile app development companies in Mumbai India.
We are among the Best social media companies in India, We are team of social media experts , we also provide SEO Services. Digital media marketing agency.We are also a result-driven Digital Marketing Agency in Mumbai. Being specialised in Search Engine Optimization, SMM, Google Adwords, etc.,
We are awesome & we create awosome things. Creative brochure designer in mumbai. We also do product catalogue design , Logo design and Emailer design.
Animations, explainer videos are our core expertise. We create custom Explainer Video to Connect with your audioance in an entertaining & engaging way. We also create Mobile app Explainer Video Explainer Video for Playstore, we are best creative agency in Mumbai India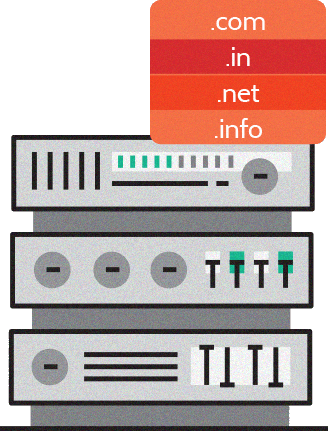 Domain & Web hosting services, Mumbai.
All of our hosting plans are backed by our in-house customer support team. We also provide Dedicated & Shared Hosting Servers. Ranked among top webhosting companies in Mumbai India. We're here for you via live chat and email. We offer a 99% uptime guarantee. Our Packages are reasonable are easy to start with. We help our customer to choose the best Domain name for Business, we provide Linux hosting and Windows hosting. Email Integration like Gmail or Zohomail configuration, webmail configuration or Outlook email configuration. Call us to book your domain or hosting +91 9004131860
See Plans
Words from our happy clients.

He brings a powerful blend of creative and collaborative thinking to his client relationships and delivers results that often exceed my expectations. More importantly, it is always a pleasure to work with Nikhil. he has earned the reputation of being exceedingly cooperative and truly customer-focused.

Nikhil and his team possesses one of those rare combination of skills where he can simultaneously work on the strategic level and the tactical level in parallel and use this to make good designs. It is a safe bet he will always deliver results as expected. And, the icing on the cake is he is a person you like to spend time with. He will go out of his way to help your settle in terms of any technological challenges you may have, genuinely warm and nice person to be around. Nikhil would not hesitate in making multiple edits and changes in design as per the client expectation.

Very hard working team of designers and developers. You can expect fantastic output for your requirement without much hassle. He's got good aesthetics and fantastic sense of design and colors. Best wishes!!!

Best thing- cool n calm, 3 benefits-1. design as per requirement 2. Best Market Rate, 3. Multiple choices, recommendation-do good follow up to get work done as per our choice, other things- Nikhil is great human being.
Our Happy Clients
We have served more than 250+ Happy clients till date. We are among Best Digital Marketing Company in Mumbai.
Websites Launched
We have launched more than 150+ websites till date. Also worked as social media marketing company, Android app development company , Top SEO company in Mumbai India.
Startups we workwith
We have worked with many startups across country, we served more than 10+ Startups till date in India and Internationaly.
Countries Served
We served more than 4+ International country mainly England, Canada, Australia and South Africa
We are more than just a Creative Agency! As a Premier Designing hub in Mumbai India, Remiges develops Creative Logos, Corporate Identity along with fullyfunctional Web Designs, Enhancing your Website Development. Furthermore, with our special expertise in online marketing, we help set up your website for online presence with the use of Digital Marketing strategy. We want your business growth. We get you noticed on - Search Engine Results Page! We also create Mobile app, Explainer Video Explainer Video for Playstore, Promo Video agency in Mumbai India